Blog
Media Shuttle Facilitates Interoperable Master Format (IMF) Adoption
Since its creation, the Interoperable Master Format (IMF) standard has proven to be a powerful tool for simplifying multi-version content distribution. However, as more Signiant customers came to recognize the potential of the IMF standard and adoption levels increased, Signiant began to hear feedback that the standard, although efficient and powerful, was very technical in nature. In contrast to Signiant's Media Shuttle's ease of use, IMF isn't very user-friendly. Signiant addressed customer concerns with new Media Shuttle functionality that makes it easier for those working with IMF packages to identify and construct the versions they need.
Media Shuttle is ideally designed to make IMF workflows easier. In fact, the goals of the IMF and Media Shuttle are deeply interlinked: providing distributed global teams and partners with secure access to valuable content and the ability to leverage that content across all points in the supply chain. While Media Shuttle does this via accelerated file transfer, IMF does so by creating assets that are usable for every individual who relies on said content.
A Step-By-Step Guide
Working with IMF is easy in Signiant Media Shuttle. When a user opens an IMF package, Media Shuttle extracts descriptive, human-readable names of the composition playlists (CPLs) from the metadata. It displays these rather than IMF's raw, and often cryptic, CPL filenames. Then, when a user selects a specific CPL, Media Shuttle delivers only the files needed to create that composition.
Here's how:
1. When in a folder that contains IMF content, the user selects the Open as IMF option.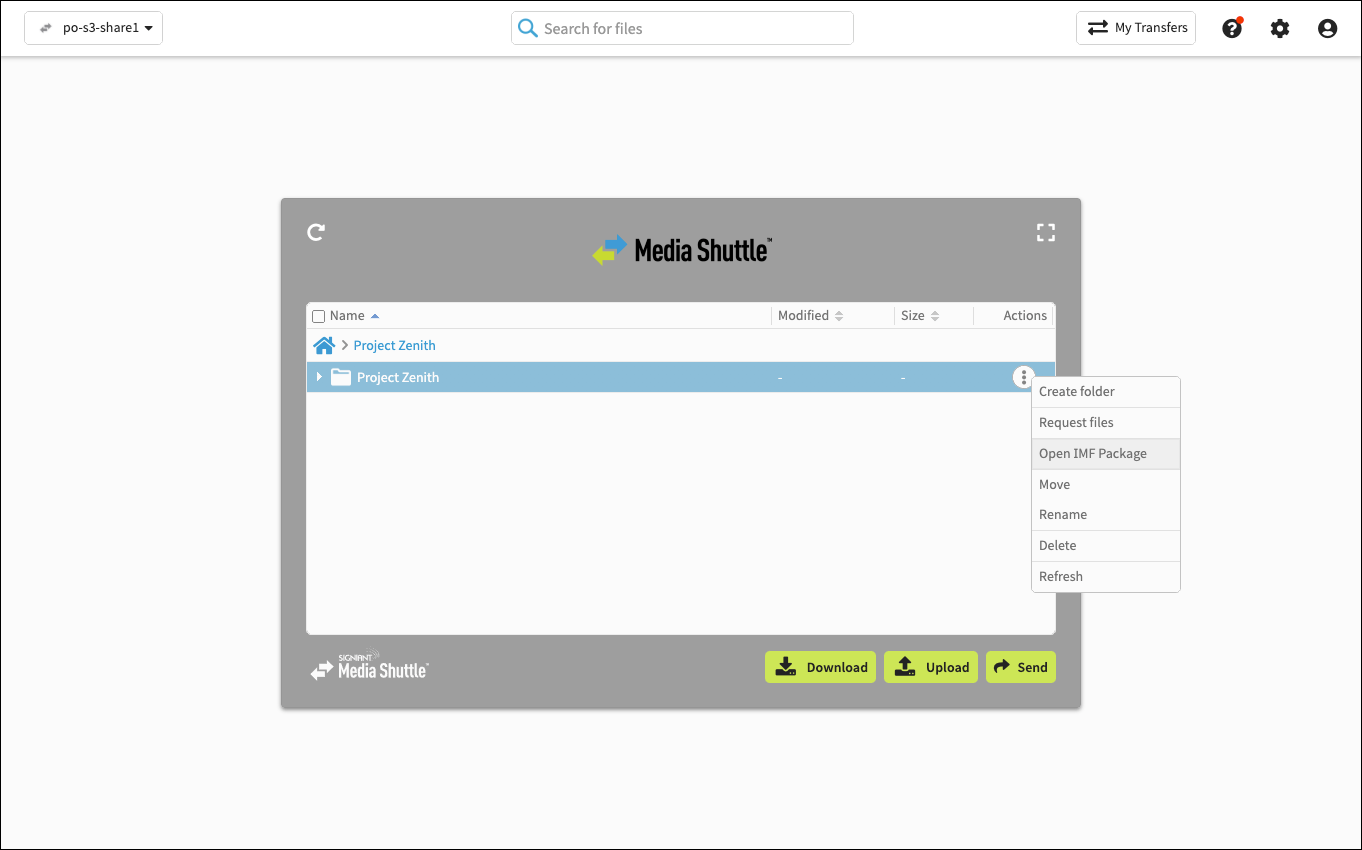 2. Media Shuttle identifies the composition playlists (CPLs) and displays them with easy and human-readable names.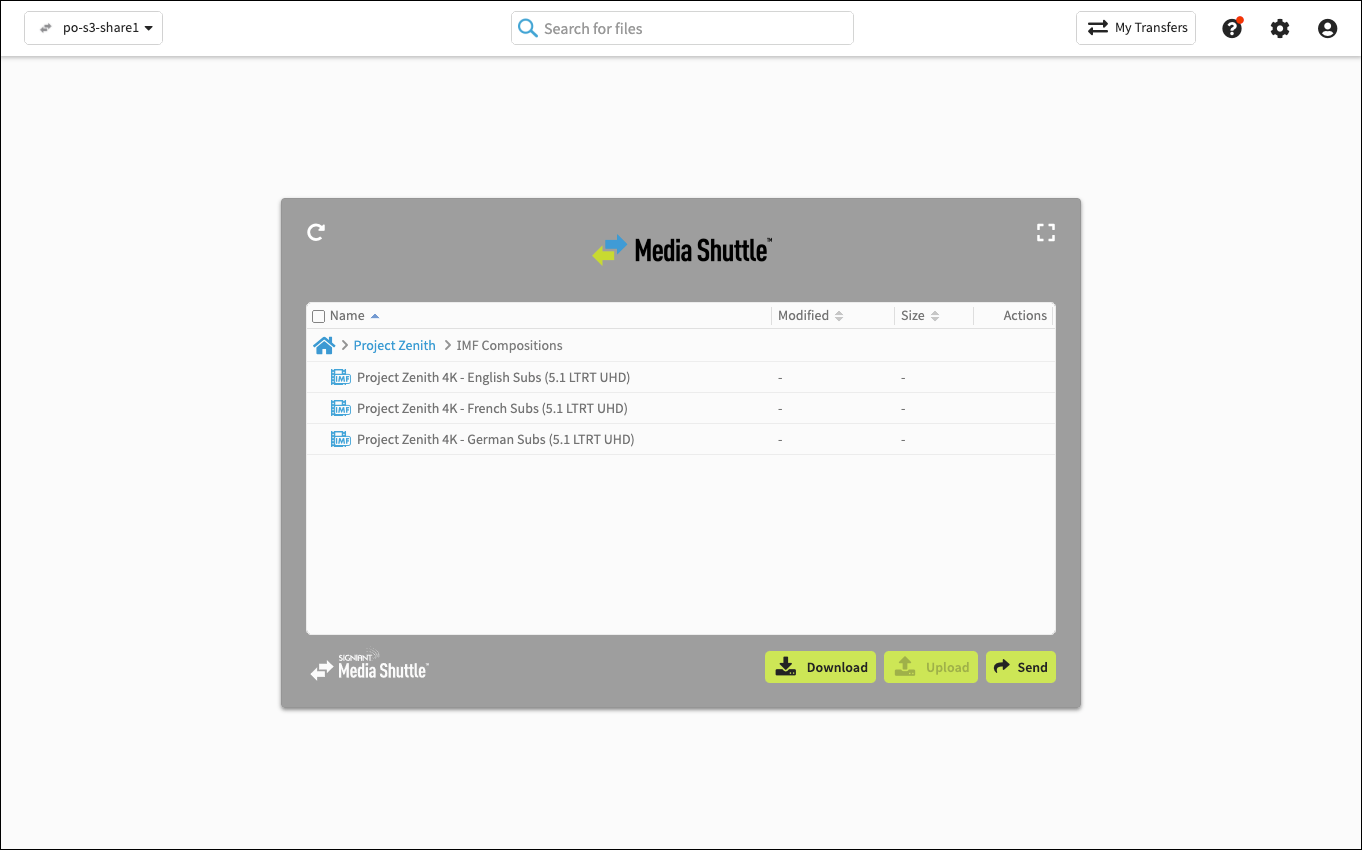 3. When a user selects the CPL they need, Media Shuttle automatically populates the Download or Send pane with all the files referenced by that CPL.
4. The user chooses to download or send the files. It's that simple. 
Media Shuttle and Signiant Simplify IMF Complexities
Since its launch in 2012, Media Shuttle has become the standard for media companies seeking to provide end users with a means of easily and securely accessing a shared pool of content. Media Shuttle's growth is indicative of its ability to successfully support a much wider trend in the industry — consumer demand for access to content across platforms, devices and geographic regions. By using Media Shuttle to send and access the content in IMF packages, customers can resolve the challenges commonly associated with producing and delivering all the required versions of a finalized media asset. Using IMF and Media Shuttle together delivers significant benefits:
Maximized delivery speed
Global availability
Ease of use
Data integrity
Media Shuttle's IMF capabilities are a clear example of Signiant's commitment to meeting the needs of the media industry. As practical application of a powerful new standard increased, we listened to the market and responded with enhanced functionality. Keeping up with significant industry trends and specific customer requirements is essential in today's fast-changing media world. Signiant is always listening to the market  and engaged with standards bodies such as SMPTE to ensure that Media Shuttle will continue to be the ideal tool for fast, efficient access to media assets regardless of where and how they are stored.


---

Read more about how Signiant simplifies IMF adoption with Media Shuttle in a recent installment of our Metadata Everywhere series.