Blog
Sports Teams are Becoming Media Companies
Can Sports Teams Access the Right-Sized, Enterprise-Grade Media Tools They Need to Compete?
Today's media landscape in sports production goes beyond the live game. It's no longer a matter of just putting a team on the field and making sure patrons are happy. Teams have become media companies creating pre-game, in-game, and post-game entertainment to rally the fans and humanize teams and players, even during the off-season.
Nowadays, sports franchises have their own production crews creating content before, during and after the game. Many clubs, for instance, have full-fledged production and post-production infrastructure to create content for their ballpark's jumbotrons, social media platforms, website, player branding, and for the regional sports network. The team within the team is tasked with keeping fans engaged all year round.
With new roles like "media operations," "creative services and content," and "post-production manager," teams are becoming media companies.
Matt Romito, Executive Producer of Cubs Productions, explained on the TeamWorks Media Podcast, "I'd like to think that we've kind of become this content studio and we have a lot of great relationships at our disposal."
Spring Training Growing Pains
This isn't a new and revolutionary idea — Tom Catlin, former Director of Video Production for Red Sox Production and Emmy Award-winning producer, described their clubhouse media challenges to StudioDaily as far back as 2005.
"As the ball club was coming together to win its title, Red Sox Productions was bringing every detail to the avid fans of Red Sox Nation, straight from the club's offices at Fenway Park," Catlin said. "But covering the champs wasn't as glamorous as it sounds. Our upstart crew faced many of the same struggles any new production company encounters."
And while this isn't some crazy new idea, the volume of content destinations and the sizes of files have vastly grown since the '05 season, causing a content explosion in sports production. Signiant explored this in the latest Collection Series, where before, during and after the game, content has to be produced, edited, and distributed: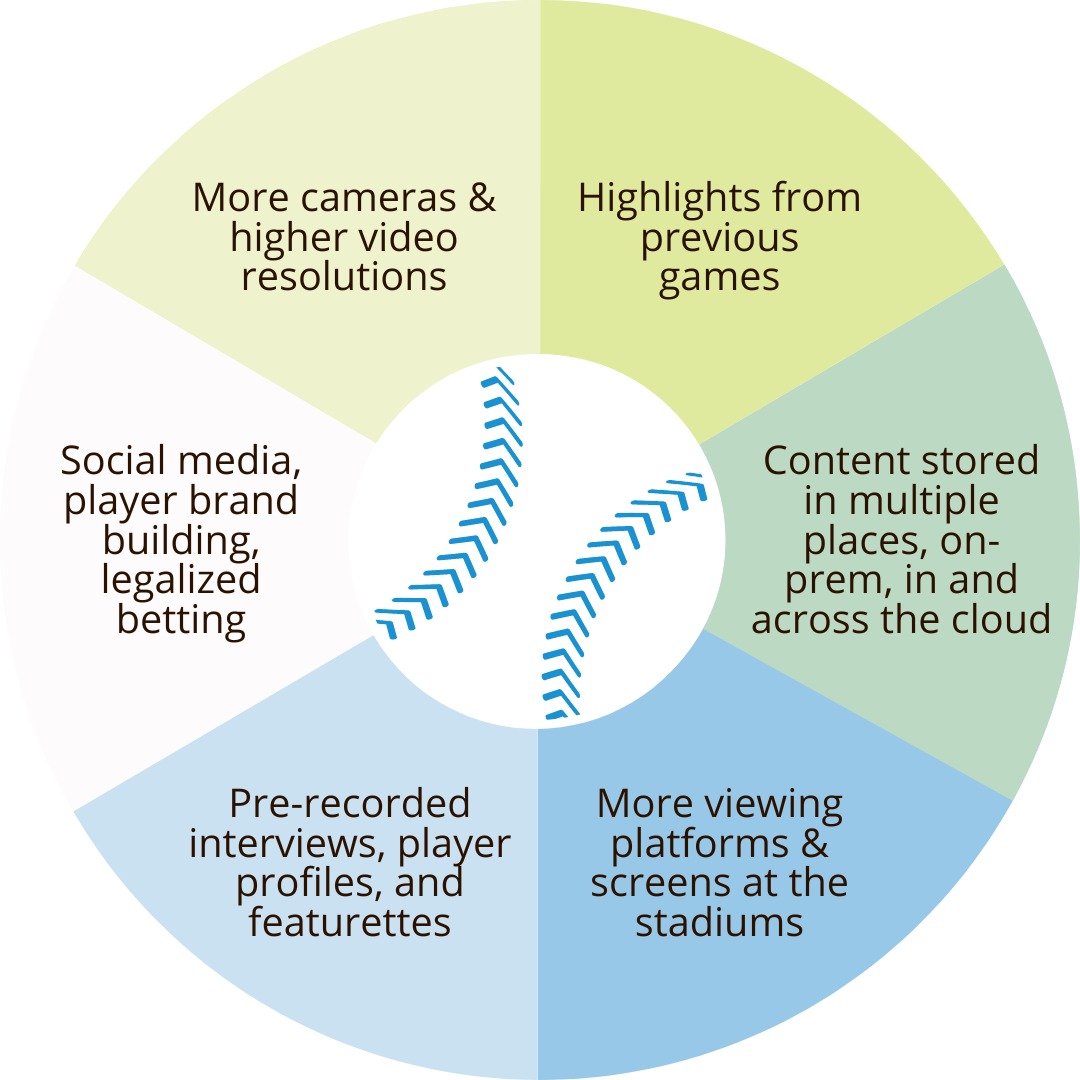 This is being done today, for the most part, with manual processes not designed for this volume or complexity. And while teams have had time to advance their workflows, the growing pains of ever-evolving complexities can cause inefficient processes, duplication of effort, and ultimately increased costs on seemingly wasted time and resources.
The pandemic has also changed many clubs' approaches to creating and distributing content — only increasing the need for remote production capabilities.
Romito recalls, " I think that MLB being the first major sport to be back in a significant way was great, but also had a lot of challenges in that we were sort of learning on the fly. We had a tiered system when it came to access. And so we were really limited to one videographer or one production person frankly, who could film with players — everything was on the field. And then you had limitations of how are we going to do some of our higher end stuff. I give a ton of credit to our social media and broader content team. They hopped on all the trends."
Betting on a Home Run
Professional teams who create and distribute content have enterprise-class technology needs, but they don't need a league-size infrastructure or budget. What they do need are fit-for-purpose tools that make it easy to find assets, perform quick edits and quickly get content where it needs to go in the right format across a wide variety of delivery specs.
With years of experience serving the world's biggest and most powerful sports leagues and broadcasters, the Signiant Platform is now being used by teams around the world including Dallas Cowboys, New York Mets, Orlando Magic, Manchester City Football Club, Toronto Maple Leafs, and many more.