Blog
Signiant Jet — New Enterprise Capabilities
When Signiant Jet launched in April of 2019, its mission was to offer powerfully simple automated content exchange both within and between organizations. Since that time, Jet adoption has grown throughout the media and entertainment industry, as has Signiant's commitment to innovation and investment, to make sure Jet fulfills that promise for all sizes of business. We're excited to introduce some recent enhancements that will enable Jet support in more enterprise environments, including network relays, bandwidth management, pull transfers and more.
Jet support for network relays
Jet is now compatible with network architectures that incorporate proxies and firewalls. This functionality lets Jet administrators build a route that funnels traffic through a midpoint relay server situated in a perimeter network at one or both ends of a transfer.
The integration of perimeter networks (often referred to with the military metaphor, DMZ) is a widely deployed strategy that companies seek to keep their private enterprise networks from direct exposure to the Internet. This liminal space, which is neither as open as the public Internet nor as secure as the private internal network, allows more control over the passage of information between public and private networks.
While a perimeter network adds an extra level of security, sheltering an organization's firewalled network, a relay equates to a gate in the fortifications. When content arrives at the relay server from an external source, it is allowed (or denied) passage to the internal Signiant Software-Defined Content Exchange (SDCX) Server where content traverses a corporate firewall on its way on-premises or cloud storage. The software forwards transfer requests from the public Internet to the private enterprise network and vice versa, controlling the data flow and moving it securely through this one established access point.
Jet network architecture with a relay at an on-premises endpoint
Jet support for endpoints restricted to outbound connections
Jet's enterprise capabilities also allow the software to operate in the context of networks configured to permit only outbound network connections, a common scenario in larger enterprises that carefully control access to internal endpoints located behind a corporate firewall.
With inter-company content exchange, it's typically the partner sending data who initiates the network connection — that's how Jet works by default. But now, when a source or destination endpoint is set to connect in an outbound direction only, it automatically becomes the connection initiator. And this setting is independent of the direction of file transfer between two endpoints.
In the Jet user interface, you'll find the options to add a relay server and restrict an endpoint to outbound connections
Bandwidth limits and scheduling help you manage resource utilization
You can now set a bandwidth utilization ceiling and choose to apply it according to a schedule.
The ability to limit the bandwidth consumed by Jet ensures that other network activity receives an appropriate share of bandwidth when needed.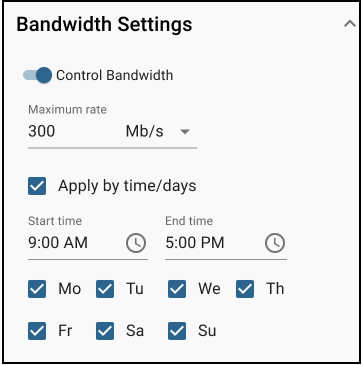 Schedule bandwidth limits when adding a job or viewing job details
Search and Export Add Visibility into Jobs
Jet now offers a new level of visibility into all running and completed jobs, making it easier to manage high loads of job activity.
We've added two new features on the Jobs page:
You can enter search criteria to quickly find specific jobs and files

You can click the Jobs History button to export a list of jobs with details
Search and export features on the Jet Jobs page
Jet for the Enterprise
Since the launch of Jet, our development teams have worked to expand the product, including the introduction of inter-company content exchange, AWS S3 support, and job scheduling. Alongside Jet functionality accessed via the product's web interface, the options offered via the Jet API have expanded to include the ability to automate tasks such as job creation, endpoint management, and email notification.
Now, Jet accommodates an even more comprehensive array of network architectures and file transfer use cases, providing more companies with tools to finely tune access control and bandwidth utilization. And with Jet's search and export capabilities, you can always find the information you need quickly, regardless of how much job activity you manage.
With these new capabilities, Jet extends its mission to provide powerfully simple automated content exchange for companies of any size. See for yourself how a Jet enterprise subscription can transform the way you automate data transfers between your global locations and partners.